Nepal Portable Handwashing 2020 Challenge
The PPF is very happy to declare Taylor Springthorpe from New South Wales as the winner of the Nepal Portable Handwashing 2020 Challenge, to design a portable handwashing unit that will improve hand hygiene in community and outreach programs in Nepal.
There was a strong field of design entries with many good considerations addressing the brief. The PPF thanks all the entrants who went through to the final submission stage for what was quite a challenging design problem.
The Judges agreed that Taylor's design offers a practical and workable solution, suited to the conditions in Nepal.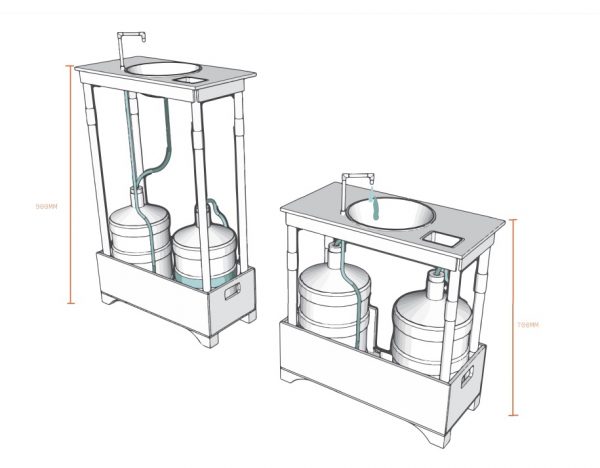 Next Steps
Taylor has worked with the PPF technical experts, both in Australia and Nepal, to develop the design in readiness for building a prototype in Nepal. Once this has been achieved Taylor and the PPF and Nepali teams will oversee the manufacturing of 3-5 units in Nepal.  After these units have been trialled and evaluated in community and health settings the unit will go into production and distribution.
Why
In these COVID-19 times handwashing is a key factor in preventing the spread of Coronavirus and other microbes. Many countries including Nepal have developed community handwashing units to overcome a lack of suitable sanitation facilities.
A great need was identified for a compact, durable, portable handwashing unit that
is easily assembled and disassembled
can be readily packaged and transported without suffering damage  on very rough dirt roads
dispenses water safely and conservatively
provides safe soap storage
considers safe wastewater disposal
is robust, tamper proof, and built in Nepal using locally available materials.
Already the requirement for handwashing in Nepal is increasing.  Hands must be washed before entering health and other facilities, outreach health and dental programs, public areas and offices.  Schools, which were closed for most of 2020-21, have resumed and now require students and staff to wash their hands before starting lessons each day.
While the unit will be used initially in a range of community and outreach programs across Nepal, the potential is much broader as we look to working with families and communities who struggle to access clean running water in their daily lives and at community gatherings.