THE PAUL PHOLEROS FOUNDATION NEPAL PORTABLE HANDWASHING 2020 CHALLENGE
The PPF has called for proposals to design a portable handwashing unit that will improve hand hygiene in community and outreach programs in Nepal, and registrations for the Challenge are now closed.
The winning entrant will have the opportunity to participate, via electronic and digital means, in the manufacture, trialling and evaluation of their unit in Nepal, in collaboration with our partner the Dhulikhel Hospital.
What…
In these COVID-19 times handwashing is a key factor in preventing the spread of Coronavirus and other microbes. Many countries including Nepal have developed community handwashing units to overcome a lack of suitable sanitation facilities.
A great need has been identified for a compact, durable, portable handwashing unit that
is easily assembled and disassembled
can be readily packaged and transported without suffering damage  on very rough dirt roads
dispenses water safely and conservatively
provides safe soap storage
considers safe wastewater disposal
is robust, tamper proof, and built in Nepal using locally available materials.
The Challenge's context is the working environment of dental outreach teams who drive long distances to provide care for remote villagers in the hilly regions of Nepal. The teams carry portable dental equipment which is self sufficient but they struggle to access a nearby water supply for effective handwashing. The unit will be also used for handwashing instruction.
While it will be used initially in a range of community and outreach programs across Nepal, the potential is much broader, as we look to working with families and communities who struggle to access clean running water in their daily lives and at community gatherings.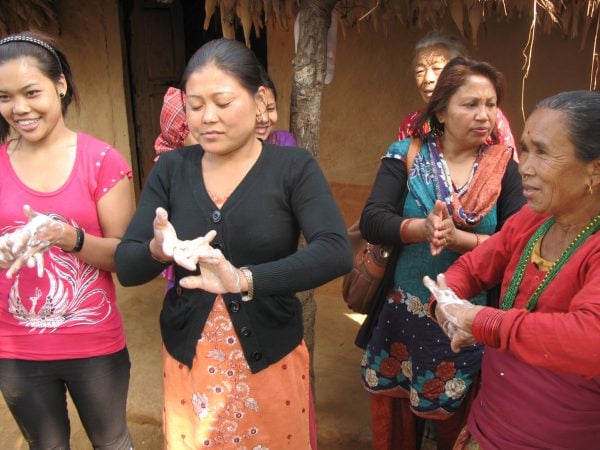 Who…
The Challenge has been taken up by Australian residents and international students who are studying at an Australian tertiary instution, and who are over the age of 18 years.  A team approach is encouraged and we welcome plumbers, engineers, architects, health care workers, industrial designers, others, to unite and bring us the design we need.  An individual may only participate in one submission.
The prize…
There is a cash prize of $1000 for the winning entry – whether it is an individual or a team – and the opportunity to work, via electronic and other communication means, with the local team in Nepal to build a prototype of the winning design, evaluate its trial usage and carry out any necessary re-designing of the prototype.
The cash component of the prize will be paid in two instalments of AUD $500. The first instalment will be paid when the winner is announced, and the second upon completion of the development process but by no later than 30 June 2021.
All entries will be assessed by the team of experts on our judging panel.
When…
24 September 2020. Online registrations close.
15 January 2021. Submissions deadline.
8 February 2021. Winning entrant advised.
15 February 2021. Winning entrant publicly announced.
How…
Registration for the Challenge is now closed.
If you have any enquiries please email the PPF at info@ppfoundation.com.au